Epoxy Flooring From the Best Flooring Contractor in Patterson, NY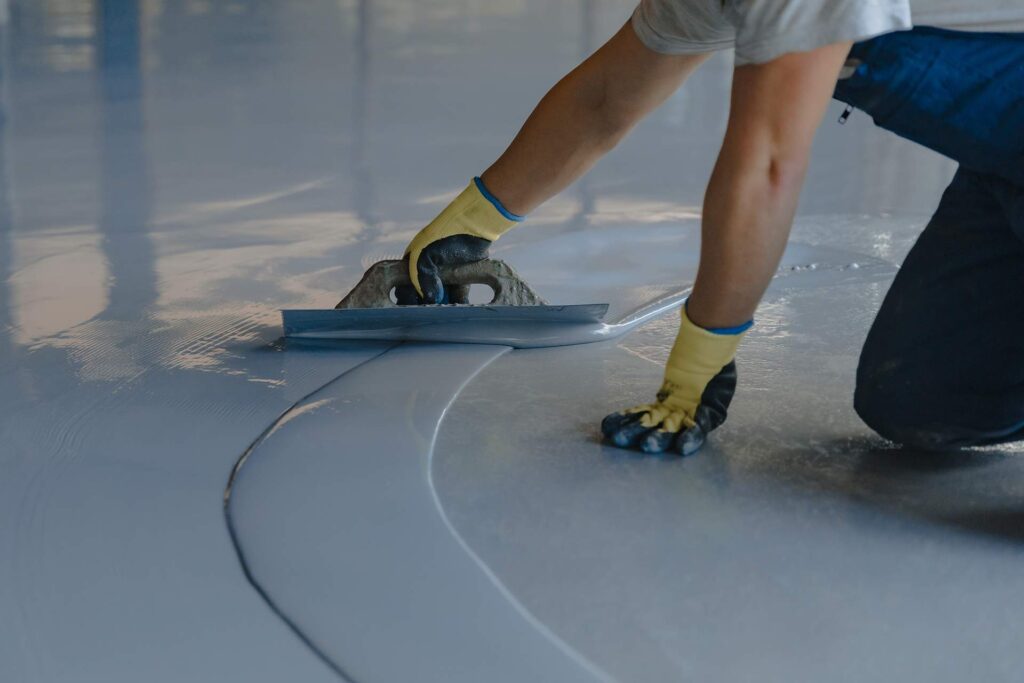 If you've been to warehouses and commercial buildings, you've probably seen epoxy flooring. Also known as resinous flooring, it is a type of flooring you'd typically see in areas with high foot traffic or places subjected to rough conditions. Epoxy floorings are incredibly durable, and they can sustain years of rough treatment and can withstand heavy loads. While it's praised for its practicality, people have also started to use epoxy flooring for decorative purposes.
Patterson Flooring Company is the leading expert flooring contractor in Patterson, NY. We are your best choice for epoxy flooring installation, and we can help you achieve the look and feel you want for your space. Whether it's your home, a showroom, or a commercial setting, our team of experienced flooring specialists can help you accomplish a professional-looking floor using epoxy.
If you need heavy-duty flooring that looks amazing and is easy to maintain, then experts at Patterson Flooring Company can help install your epoxy flooring in no time!
Fill out the form below and Patterson's Flooring Company will get back with you as soon as possible.
Benefits of Epoxy Flooring
Epoxy flooring is excellent for many use cases, both for residential and commercial purposes. Since they're highly resistant to damage, you can be sure they will last very long. If you want the type of flooring that will truly stand the test of time and wear, check out what epoxy flooring has in store.
Epoxy floors are highly durable and withstand up to 10,000 psi (pounds per square inch). They are also impacted and damage resistant and can even endure heavy foot traffic without showing signs of wear and tear. It's no wonder how epoxy is widely used in industrial settings.
Factories and laboratories are some spaces where epoxy floorings are used the most. Since there are a lot of chemicals in these areas, the floor must be non-slip so as not to risk any spill hazard. Epoxy floors are also easy to maintain, making them a viable option for areas with high foot traffic.
Spaces like kitchens, restaurants, and supermarkets need the type of flooring that's safe for food and can easily handle spills. Since epoxy floorings are non-porous, you can easily clean anything that spills on it. 
Epoxy floorings project a smooth and shiny appearance, making them an excellent choice for residential or commercial buildings. In addition, these types of flooring come in many beautiful colors, perfect for areas where people usually come and go.
Consider These First Before You Install an Epoxy Flooring
There's no denying how popular epoxy flooring has been in the previous years. Some of the primary reasons for this are extreme durability and easy maintenance. But before you decide on installing epoxy flooring, there are a few things you need to consider first.
First, epoxy flooring shines the most in areas with heavy foot traffic. Residential rooms that experience congestion, including hallways, kitchens, and garages, can use epoxy flooring. When it comes to commercial establishments, you can install epoxy flooring in spaces such as showrooms and entertainment spaces. We suggest you figure out your property's ideal areas before hiring some flooring contractors in Patterson, NY.
The areas you choose must also not be exposed to too much moisture. While naturally non-slip, epoxy floorings can still be slippery, especially when there is rain, snow, or extended periods. Because of this, you must choose a room that doesn't get an above-average amount of moisture. It's also why you shouldn't install epoxy flooring in areas such as laundry rooms and mudrooms.
Luckily for you, there are a bunch of colors and design options you can choose for your epoxy flooring. So whatever design or decor your property might have, there will be epoxy flooring for you.
The good news is that epoxy flooring is available in various colors and designs. This means you can choose a floor that fits your style and décor. So whether you want a sleek and modern look or a more traditional design, there's an epoxy flooring option.
Quality Epoxy Flooring Services Only at Patterson Flooring Company
When it comes to epoxy flooring, you should look no further than Patterson Flooring Company. We are the most trusted flooring contractor in Patterson, NY, and we will stop at nothing to ensure you get the best kind of flooring you deserve. We have a team of professional flooring experts that can help you with anything you need. They can give you the information you need to make an informed decision about your flooring. 
Our flooring options include concrete epoxy, metallic epoxy, and urethane-modified concrete (UCC) systems. You can also choose from our wide range of design options. Whether you want a simple yet practical solution for your residential home or an intricate design for your commercial business, we got you covered. 
For more information about our services, be sure to give us a call. You can also fill out our form to get your free consultation and estimate. We hope you choose us to install your epoxy flooring.